Dr. Irma A. Juarez-Drew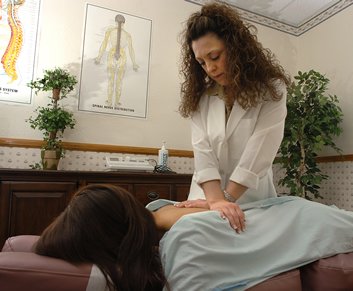 Dr. Irma A. Juarez-Drew grew up in Cerritos, California where she graduated from Richard Gahr High School with highest honors in 1983. Thereafter, she attended the University of California, Irvine majoring in the biological sciences. While attending UC Irvine, she was one of a small group of students who were chosen to take part in a pre-medical program hosted by Harvard University where she chose to study neurobiology. Upon completion of the program, she returned to UC Irvine and attained her Bachelor of Science degree. She was accepted into medical school and chiropractic college but decided to attend the latter due to its whole health care model. She attended Los Angeles College of Chiropractic and graduated at the top of her class, Summa Cum Laude.
Shortly after graduating, she was invited back to Los Angeles College of Chiropractic and offered a faculty position which she accepted. She taught in the Principles and Practice Department and worked in a local chiropractic clinic for the next four years. While teaching and treating patients, she decided to further her education by completing an additional three years of post graduate education in which she specialized in sports medicine.
In 1996, she opened her own clinic, Total Health and Body Chiropractic in Hesperia, California. She has had the wonderful opportunity to help a diverse group of individuals through the years. She has grown with her patients and is very grateful for the honor of helping each and every one of them.
In 2012, Dr. Juarez-Drew opened a second clinic, Vida Hermosa Chiropractic in San Juan Capistrano, California. She chose this name because it projects the essence of how she likes to practice. She enjoys helping her patients help themselves to live a "Beautiful Life" through proper diet, exercise and chiropractic care.
Dr. Irma encourages her patients to eat a healthy diet rich in organic fruits and vegetables. She believes in the importance of detoxification and the utilization of whole food vitamins. She guides her patients through stretching and strengthening programs. She promotes the importance of regular chiropractic care for the maintenance of proper body biomechanics.
She utilizes a variety of treatments in her clinic which may incorporate physiotherapy modalities, laser therapy and massage therapy. She is trained in a variety of adjustment techniques to include Diversified, Palmer, Thompson Table and Activator. The Activator technique is an extremely gentle way of adjusting and works great for disc patients, children and seniors. She is also a certified Graston Practitioner.