Graston Technique®
by Irma A. Juarez-Drew D.C., C.C.S.P.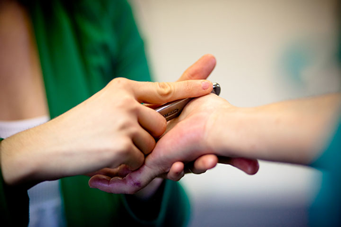 The Graston Technique® employs a set of instruments for assisted soft tissue mobilization. This technique effectively detects and treats scar tissue that can restrict normal body range of motion and mobility.
The Technique:
Detaches and breaks down collagen cross-links and stretches the treated connective skin and muscle fibers.

Facilities reflex changes in the chronic muscle patterns

Warms the skin

Increases the amount and rate of blood flow

Changes spinal reflex activity

Increases fibroblasts and mast cells, and other cellular activity

Increases histamine response secondary to mast cell activity.
Untreated scar tissue will inhibit range of motion and can likely result in pain. When observed under a microscope, normal tissue will be viewed as dense elongated fibers running in one direction; examples being tendons and ligaments. Scar tissue can also appear as dense tissue but will appear as irregular loose fibers running in multiple directions. This will inhibit normal range of motion, mobility and may induce pain.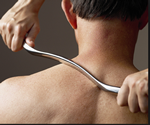 The instruments used in Graston Technique® by a certified clinician detect adhesions, the arbitrary healing scar tissue. A skilled clinician will comb over the affected area with the stainless steel instruments which will "catch" on this fibrotic tissue. This instantly identifies the areas needing treatment. The Graston Instruments can effectively break down this scar tissue resulting in increased range of motion and mobility. Once broken, the scar tissue can be absorbed by the body.
The treatment may cause some minor irritation. Graston Technique® is a non-invasive procedure, but it does require some vigorous contact with the affected areas. This can result in some minor discomfort and possibly bruising. This is normal to the healing process. The treatment will be preceded by some stretching and warm up. Subsequent to treatment, additional stretching is performed with icing of the affected area.
Patients usually have two treatments per week for 4 to 5 weeks depending on the area. Results may be seen as early as the 3rd or 4th treatment. Graston Technique® historically has had positive results in 75 to 90 percent of chronic injuries, and pre and postsurgical patients.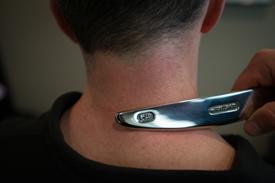 For more information on Graston Technique® please call;
Irma A. Juarez-Drew D.C., C.C.S.P.
(949) 481- 1996
Vida Hermosa Chiropractic
San Juan Capistrano, Dana Point, San Clemente, Ladera Ranch, Coto de Caza,
Mission Viejo, Laguna Beach, Laguna Hills, Laguna Niguel, Rancho Santa Margarita and Aliso Viejo.